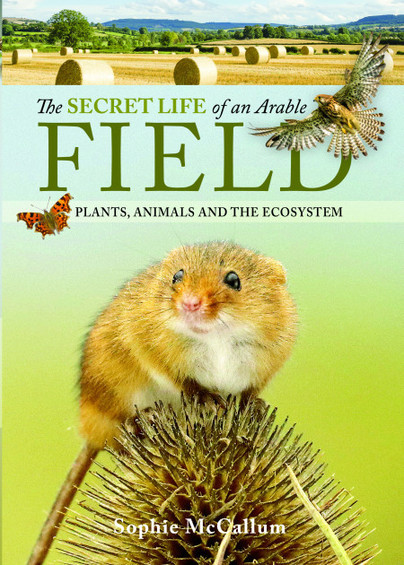 Rosie, from Pen and Sword Books contacted me to see if I'd like to review this new book. Having never written a book review – and having been away from my own writing for most of this past year due to illness and other reasons, I wasn't sure if it was something I could do, but I agreed and was sent a copy – and thankfully it inspired me to get back to writing, and attempt a book review too!
The book opens with some statistics: "First there is food. Agriculture in the UK is a £5.3 billion pound industry…… and uses 69% of the land mass". Given that; this book is incredibly relevant. Agricultural land is such a rich part of our ecosystem, but something I certainly – and probably many others, tend to bypass by jumping in the car and heading off for the more exotic mountain, forest and coastal landscapes. Fields are everywhere. Having recently driven across the whole width of the UK in pursuit of some rescue ferrets (which is another story for another day!) I was reassured to see that the UK is indeed full of natural wonder.
On my journey, I passed through South and Mid Wales and watched the land as it rose up out of the dairy farms and meadows in the Towy valley and into the Brecon Beacons with their misty forest tops and hardy sheep feeding below. The M50 was nothing but 4 lanes of traffic with intermittent hard shoulders that passed through endless fields before joining the M5 and the subsequent motorways I took on my trip to the East Coast of Yorkshire. In the latter part of my journey I was aware of how high up I was, yet how few mountains were in sight – and all the time I was surrounded by fields – red fields, yellow fields, green fields, brown fields, and the occasional grand old Oak or Beech tree standing proud overlooking the bare landscape. But did I see much wildlife? Not really. Gone are the days of motorway journeys being punctuated by kestrels hovering over the verges, or deer grazing in the fields. But that doesn't mean it wasn't there – and Sophie McCallum's book reminds us that the wildlife we find living their lives in arable land, is indeed secret. We need to get out and look for it – we need to in the words of William Henry Davies take the time to "stand and stare".
Leisure
What is this life if, full of care,
We have no time to stand and stare.
No time to stand beneath the boughs
And stare as long as sheep or cows.
No time to see, when woods we pass,
Where squirrels hide their nuts in grass.
No time to see, in broad daylight,
Streams full of stars, like skies at night.
No time to turn at Beauty's glance,
And watch her feet, how they can dance.
No time to wait till her mouth can
Enrich that smile her eyes began.
A poor life this if, full of care,
We have no time to stand and stare.
William Henry Davies
The Secret Life of an Arable Field is the type of book I loved when I was growing up. It is a book I want to handle and flick through and sit with and enjoy. The content is factual and not dissimilar to searching for information about various species online, like a glossy hardbacked wikipedia – but having all that information in one place is valuable, and unlike online research, you can lose yourself in the beautiful photographs and get drawn into discovering other related species.
At first I found the book's lack of personal opinion and emotion quite unusual – I am used to hearing what other people think and feel about the natural world and this book is full of good, solid facts, and incredible photographs – and not much else. It didn't instantly engage me like some wildlife books but it was a grower. I like that it isn't preaching. I like that it presents the reader with lots of accurate information and brings together the whole ecosystem of an arable field with the trees, insects, birds, mammals and plants all having equal place in the book – and all arranged in alphabetical order. Going from Poppy, to Potatoes, to Powdery mildew, to Primrose, and then Rabbits gives a powerful message about the interconnectedness of species and how they are all important and play a vital part in the food chain and ultimate survival of all species.
This book is going to be a favourite. It can be picked up and savoured for the top quality colour images, and it can be used to learn more about a particular species. It is not a guide book for taking out into the field, but in these days of mobile phone cameras it is a valuable reference resource to use back at home. I wondered upon first picking it up if it would be a bit random – a collection of nice photos 'forced' into a text book – but The Secret Life of an Arable Field is anything but. This book has a powerful message that enables the reader to uncover and link together the various species and realise the importance of them all, and what really makes the field a special place for both human and wildlife alike.
I was not paid for this review – but was sent a complimentary copy of the book. I was simply asked if I would be interested in reviewing the book on my blog – no suggestions were made as to how I write the review or what to include.